Big news! As we enter our 20th year of business, we're releasing an updated brand identity, which includes a new logo, colors, and font. You'll see the new look anywhere we're out in public, like our website, Facebook, and Twitter; very soon you'll see it in all of our portals, as well. We believe the new look better matches what we've become since 1999: a provider of thoughtful technology solutions and support that modernizes the work of mid-sized businesses, while better connecting partners to their team members and their customers.

Since our founding in 1999, we've more or less stuck with the same R in motion--people really liked our business cards, what can I say! But in the last few years we've changed quite a lot: we launched an expanded offering for clients with deep-dive consulting needs and started hewing more closely to the needs of power users and how we can streamline their technologies. Our core engineers and technicians are more focused on their areas of expertise and our large help desk team is on a 24/7 schedule to serve our mission critical clients quickly. The old look started to chafe. The R felt a bit superhero-ish (we're humans, after all), and the Kelly green felt like a pair of pants we put on in an apartment in 1999 and forgot to take off for almost two decades. Needless to say, it was time for a change.
Our design goal was to better match how we look to our values and the users we serve. A small team inside the company worked to find something that appeared crisp, approachable, smart, friendly, and connected.
Compared with Kelly green, the lighter green is cool and refreshing, and the dark, grey-blue (almost black) feels a bit mature. The unique font is deliberately clean, modern, and light.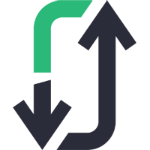 The "R" of the logo, quite obviously, is gone. Our decision to rid the short form of the R is deliberate and took on much debate. The R in the middle felt like the center of the universe (science geeks that we are), whereas, our universe is really about our clients. It is a token to our service before self promise.
We hope you like this new look and feel for Refresh! Look out for our updates around the web—like an updated look in our portals and a brand-new website launched last quarter—as we continue to try to better serve our users with high-performing, modern, user-friendly technology solutions.